As Seen on
TV

Christmas: Memories
I have missed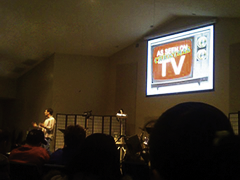 Sunday Service a cou­ple Sundays due to ill­ness. Our pas­tors have been giv­ing us a glimpse of Christmas as seen on TV and how we can have a bet­ter Christmas than what the world often presents. This week Pastor Bart encour­aged us to make last­ing and great mem­o­ries of Christmas. But first, the ser­mon notes.
Your sit­u­a­tion doesn't mat­ter. Regardless of your sit­u­a­tion, you can make great Christmas mem­o­ries. Just look at the Christmas sto­ry itself to see this.

We usu­al­ly have typ­i­cal tra­di­tion­al pic­tures of the Christmas sto­ry. Mary and Joseph with baby Jesus in swad­dling clothes sur­round­ed by angels singing, the shep­herds wor­ship­ing, and wise men giv­ing expen­sive gifts.

But what is oft over­looked:

Scandalous Mary preg­nant claim­ing preg­nan­cy is of God, Joseph had to be con­vinced to mar­ry Mary.
Nine months preg­nant and trav­el­ing and to make things worse, Joseph hasn't made any arrange­ments for sleep­ing so they have to give birth in a sta­ble.
And then, they have to flee to Egypt because Herod wants their heads.

Christmas is what it is because Joseph and Mary accept­ed God's "crazy" plans.

When we do the same, we will devel­op last­ing mem­o­ries.

Mess up your mem­o­ries by try­ing to hard to make Christmas per­fect. The hard­er we try, the worse things come out.

But if you make God the most impor­tant aspect of Christmas, it will be a per­fect mem­o­rable time. It doesn't mat­ter what our sit­u­a­tion is. Be pos­i­tive = believe God, have faith. Follow what God would have us do doing Christmas.
This of course depend on lis­ten­ing to God, to hear what He would have is do dur­ing Christmas. I guess I oft for­get that this is a basic way of life for fol­low­ers of Christ. We not only need to ask God what he would have us do for Christmas, we need to ask Him what He would have us do on a dai­ly basis.
But yes, Christmas is a spe­cial time. We need to look to God and ask Him if He would have us do any­thing extra spe­cial — some­thing that has to do with the sea­son… I guess. I will take this week and seek out what God might have me do.… Or do I real­ly need to? I am pret­ty pos­i­tive that God would have me first and fore­most be a good son, a good broth­er, a good uncle, and a good hus­band on Christmas. I need to ensure that my atti­tude and actions reflect that Christmas is all about giv­ing to oth­ers, espe­cial­ly how God gave to us. During our fam­i­ly Christmas cel­e­bra­tion, it is all about fam­i­ly, not about me and my phys­i­cal ills.
Family, I know some of you read this. Lets not talk about my gluten intoller­ance and oth­er ail­ments. Ok?