We vis­it­ed my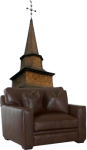 mother's new/old church on mother's day. She recent­ly moved back to the town she grew up in and of course went to the same church she went to as a child. I have a great moth­er and am so thank­ful for her. It was great to be with her on Mother's Day. I have learned so much from her and although I can't blame her for my fail­ures, she can cer­tain­ly take cred­it for any vic­to­ries I have had.
Her church is a new church in that most of the peo­ple that attend­ed it when she was a child are no longer there. It isn't even in the same build­ing or loca­tion that I used to vis­it with my grand­par­ents. However, there are a few peo­ple there that she knows, enough that I am guess­ing she feels right at home and it isn't real­ly a "new" church.
In some ways it is still the same church even for me although I cer­tain­ly don't remem­ber any­one from when I went there as a child. All local church­es are all a part of the one Church, the Body of Christ. It should not mat­ter what local man­i­fes­ta­tion of the Body we attend, we are home.
We can vis­it church after church and see many dif­fer­ent per­son­al­i­ties of church­es. Even the same church will change over time. But as long as the peo­ple of a church seek to have a per­son­al rela­tion­ship with God and to pass it along to oth­ers we can go to any of those church­es and find a home.
Now that isn't to say that we will feel com­fort­able at every church. Just as every­one has their own per­son­al­i­ty, so do local church­es. We will nor­mal­ly find cer­tain church­es more like that com­fy chair that we can sit in and just feel great. And the com­fy chair I like may very well be a hor­ri­bly uncom­fort­able chair for some­one else. That doesn't make one bet­ter than the oth­er.
We need to find a church that we are com­fort­able in.. but not nec­es­sar­i­ly too com­fort­able. Our church should always chal­lenge us, move us to new areas in our rela­tion­ship with God and in our rela­tion­ships with oth­ers. Our church­es should chal­lenge us to get out of our com­fy chair and into the world, to res­cue the lost and min­is­ter to the needy.