Dive In: Holding Your Breath
Well, I missed a cou­ple Sundays for this series.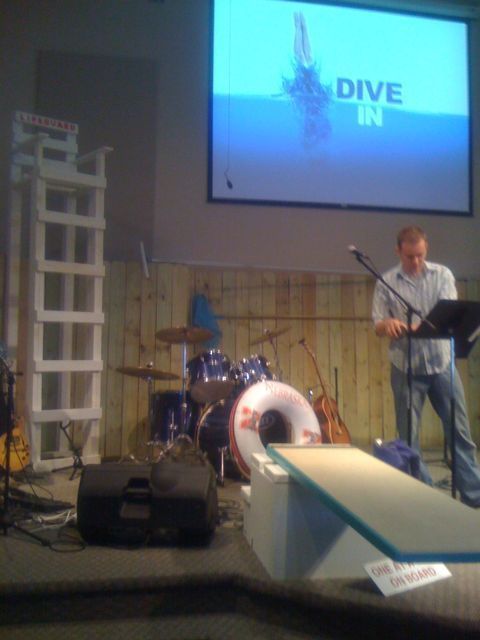 Good stuff that I have missed. Fortunately, Pastor Jeff did a good job at sum­ma­riz­ing what I missed. To sum up so far, this series is all about get­ting involved in some sort of min­istry for Christ. It is a call to us to stop sit­ting like a bump on a stump in the church pews (or chairs) and get involved with the the life and fam­i­ly of the church that we attend.
First, my ser­mon notes:
First week, is to get on the board. Be will­ing to do some sort of min­istry in the Church. The sec­ond week was "Bounce on the Board." Do the sim­ple things of min­istry. The next week was the call to "Jump", do things that make you stretch, take a chance. And then, this Sunday, hav­ing jumped we are in the water hold­ing our breath and it is time to pan­ic — or at least that is what seems to hap­pen at times..

Luke 23–23 [show]ERROR: The IP key is no longer sup­port­ed. Please use your access key, the test­ing key 'TEST'
. The dis­ci­ples up to this point think they are "in". When Jesus becomes king, they would be the top dogs. But instead they find them­selves fol­low­ers of a man arrest­ed, cru­ci­fied, and buried. They sud­den­ly found them­selves under­wa­ter, dis­ori­ent­ed, and pan­icked.

We too can get involved in min­istry and it just doesn't go right. We can get dis­ori­ent­ed won­der­ing what in the world is going on. We can become dis­il­lu­sioned, dis­ap­point­ed, and deject­ed. We can feel like giv­ing up.

What do we need when we are under­wa­ter, hold­ing our breath and not sure what to do.

Trust our life vest. The Holy Spirit helps us when we are under­wa­ter and dis­ori­ent­ed. John 14:26 [show]

ERROR

: The

IP

key is no longer sup­port­ed. Please use your access key, the test­ing key '

TEST

'
. We need to stop fight­ing it, relax and let the Holy Spirit move us in the right direc­tion. Then we need to move with the Holy Spirit.
Tread water. Once we get back to the sur­face, our nat­ur­al reac­tion is to try to get out. In rapids, if you just stand up, you will sim­ply get knocked back down and poten­tial­ly drown. But if you stay in and tread water you can ass­es the sit­u­a­tion and make the right deci­sions. We need to seek God's will. Get help from a life coach.
Finish the assign­ment. God's plan A is the plan. We need fin­ish it. We will want to give up. But when you per­se­vere, you will feel great and know that the next time you face adver­si­ty God will take you through it. Acts 20:23–24 [show]

ERROR

: The

IP

key is no longer sup­port­ed. Please use your access key, the test­ing key '

TEST

'
. Finish the race.
This was quite pos­si­bly the best ser­mon mechan­i­cal­ly I have heard Pastor Jeff preach. It was tight, focused, and kept our atten­tion. I didn't find my mind wan­der­ing, or try­ing to fig­ure out what I was going to write for this blog post. Quite frankly, I still don't know what to write. What is God speak­ing to me about here?
I need to stop strug­gling with won­der­ing what in the world God would have me do now. I need to trust in the Holy Spirit, that He will lead me in the direc­tion He desires and then move in that direction.This strug­gling real­ly does pre­vent us from hear­ing God. Thrashing about, jump­ing hith­er and thith­er can drown out the quite calm voice of the Spirit. It is time for me to take a few weeks and just lis­ten. Spend time in prayer and med­i­ta­tion.
Don't swim to shore. It is so tempt­ing to hide, avoid get­ting involved. But God calls us to stay in the stream of His call. I must llet Him take me to where He wants me to go.
I need to con­tin­ue with what I know God has already put in front of me. Maybe more impor­tant­ly, I need to get bet­ter focused on that work. I guess I am not dri­ven by any­thing so I let things lan­guish but God calls me to have zeal and deter­mi­na­tion. Again, this comes from prayer and med­i­ta­tion as much as any­thing.