Financial Peace: God Has a Plan
It sounds so easy.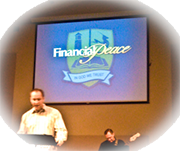 The sermon speaks volumes to me. I should be able to sleep well now… right? Well, no. And I feel lousy that I can't, or maybe its sleepy. What am I talking about? Financial peace. God has a plan. When I do my best in managing the finances God has provided me, when I trust in Him and His plan, even when my future seems unclear, I still should be able to rest in His Peace. Well, that is what I brought home from Sunday's sermon.
I also brought home some sermon notes:
It seems easier to save for short term but not for the future.

God has a plan. John 14:2-3 Jerimaiah 29:11

God expects for us to plan for the future. Matt 25:14 ff. God entrusts us with money. He expects us to invest it and grow it. He expects us to manage what He has given us well.

Ecc 11:2 divest. Be wise with our money. Have long term goals.

Keep the correct motive. Our finances are a potion of our relationship with God, not the hub our lives revolve around. Is God a part of our planning for our finances?

God has a motive for our savings. God has a plan for my life, for retirement, that I don't know about yet. We save for the future that we may serve God in ways we can not imagine in the future. It is God's future. Call our long term savings plan "God's Plan"

God still wants us to maximize today as well. We can not be so mizerly that we can not be used by God today.
The sermon was about saving for the future that we might be able to better fulfill God's plan for us but of course I sat through the whole sermon thinking purely about the phrase, "God has a plan." Well…. I wish He would tell me what it is!
And that is my whole problem. I should be able… my head tells me, my heart tells me… in God we trust. And if I trust God, I don't need to know His plan for my future long range. More importantly, although I understand where Pastor Jeff was going with regards to saving for the future I also struggle with it considering what Jesus said like we see in Luke 12:22-34. Do not worry about the future because our Father will take care of us. Yet here I am at 5am, not able to sleep because I am doing just that, worrying about the future.
God, apply your truth to my whole being. Help me trust in you. I know you have a plan for my life and I desire to follow it even though I don't know what it is. I will live today according to your Word and as I understand your will is for me. I will prepare myself today that I might serve you better in the future. Our finances are Yours and all we save is there for You to use. Empower me by the Holy Spirit to trust that no matter what happens to Joy and I financially You will take care of us. You will take care of us.