Well,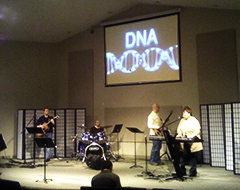 I missed last weeks ser­mon but pas­tor Jeff tells me I missed him talk­ing about one of the pas­sages I feel is life chang­ing if we can but fol­low it, Phil 2:1–11 [show]ERROR: The IP key is no longer sup­port­ed. Please use your access key, the test­ing key 'TEST'

(see my study My Rights!). Pastor Bart for­tu­nate­ly used it today as well. He start­ed his ser­mon by show­ing how being a pow­er­ful leader does not equal hon­or­able, e.g., Hitler, Stalin, Mau Zedong. Pastor Bart defined hon­or­able as doing some­thing self­less­ly for oth­ers. We see this in Phil 2 [show]ERROR: The IP key is no longer sup­port­ed. Please use your access key, the test­ing key 'TEST'

. Jesus was hon­or­able, it is in His DNA.
Other ser­mon notes:
1 Cor 13:4–5 [show]ERROR: The IP key is no longer sup­port­ed. Please use your access key, the test­ing key 'TEST'
defines a part of God's DNA of love, show­ing us how He is hon­or­able.

There is a fine line between dis­hon­or­able and hon­or­able. Example: slan­der­ing to get a raise, work­ing hard to get a raise, vol­un­teer­ing with­out get­ting any­thing in return. Hoarding, giv­ing to a friend in need, giv­ing anony­mous­ly. There are many things that this world calls hon­or­able but real­ly are just aver­age, even mediocre.

Calvin Coolage on hon­or, ""No per­son was ever hon­ored for what he received. Honor has been the reward for what he gave.""

Our genes come from our par­ents, when God becomes our Father, we receive His DNA.
Pastor of course asked us to ask our­selves the hard ques­tion, "Would peo­ple call me hon­or­able? Would I even call myself hon­or­able?"
First, I am not sure but that call­ing one­self hon­or­able is the same as call­ing one­self hum­ble. But do oth­ers see me as hon­or­able? I guess I have to ask myself the ques­tion, "What have I done self­less­ly, with­out thought of reward or hon­or?" What have I done for oth­ers in a way that they might not even know?
If I have done so, to answer that here pub­licly would be as wrong as boast­ing about how hum­ble I was in a cer­tain sit­u­a­tion. Instead, let me men­tion some ways we can be hon­or­able that we often do not think about.
I have a strong belief that tithes and offer­ings to our church should be giv­en anony­mous­ly. It isn't always easy to do so and all too often we say some­thing sil­ly like, "But then I can't deduct it on my tax­es." I have to admit, writ­ing a check is a lot eas­i­er than get­ting cash and putting it into the offer­ing box but tithing and giv­ing anony­mous­ly is the "Jesus thing" (see my study On Giving).
Try send­ing a "Get Well" card anony­mous­ly or bet­ter yet, do a 'ring the door­bell and run' tac­tic, leav­ing a full 5 course meal on the doorstep (well, in today's sus­pi­cious world, maybe that wouldn't be a good idea).
Volunteer for that one job at church that nobody real­ly wants to do.
Leave an "atta boy" mes­sage on the desk of a fel­low work­er, no sig­na­ture!
I think you get the idea. Pastor's chal­lenge to me is to find ways to do things for oth­ers that build them up with­out bring­ing any atten­tion to myself. And I hope you take up that chal­lenge too.